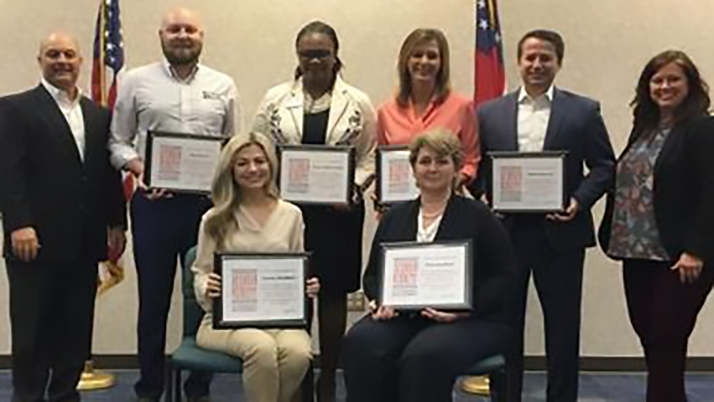 SGRC staff members Rex Dorsey and Lauren Sandbach recently completed the Region 11 Georgia Academy for Economic Development. They graduated on May 22nd with several other county leaders from the region.

The Academy's multi-day program, taught one day a month over a four-month period, includes training in the basics of economic and community development, plus specialized segments on business recruitment and retention, tourism product development, downtown development, planning, and other essentials for community success. In addition, the curriculum features specific leadership skills such as consensus building, ethics in public service, collaborative leadership and other segments needed for effective community leadership in economic development.

Rex Dorsey, Business Development Officer, SGRC Lending Department, commented, "It was a very eye-opening experience to see all of the factors that affect Economic Development in our region and the tremendous hurdles that we face in rural South Georgia in achieving those goals. It was interesting to see all of the resources available to small business owners including our SGRC loan programs and I feel encouraged in new ways to better market our programs to the public."

"The Academy proved a beneficial experience that contributed to my knowledge of community sustainability and growth. It encourages regionalism as an essential component to our community's vitality, and I plan to integrate this mindset into my economic development projects," remarked Lauren Sandbach, Grants Specialist, SGRC Community & Economic Development Department.

The next Region 11 Georgia Academy for Economic Development will begin in February, 2019. For more information on this, feel free to contact Rex (rdorsey@sgrc.us) or Lauren (lsandbach@sgrc.us), or contact Kelly Lane with DCA (kelly.lane@dca.ga.gov).