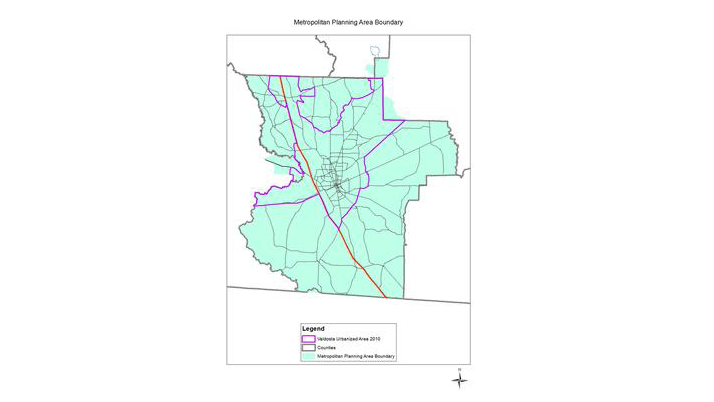 The Southern Georgia Regional Commission (SGRC), as the designated Metropolitan Planning Organization for the Valdosta Urbanized Area, is soliciting proposals from qualified firms for the completion of a Regional Connectivity Study for the development of the 2045 Transportation Vision Plan soon to be undertaken by the Valdosta-Lowndes Metropolitan Planning Organization (VLMPO). The primary goal of this study is to identify future projects for inclusion in the 2045 Transportation Vision Plan and subsequent plans that lead to increased mobility on regional roadway corridors.

Sealed submittals from firms will be received by the SGRC at 327 W Savannah Avenue, Valdosta, GA 31601 until 4:00 p.m., legally prevailing time on August 3, 2018, for: "Request for Qualifications/Proposal for Regional Connectivity Study." Proposal documents may be obtained at no charge on our website at www.sgrc.us. This is the only official release site for this request for qualifications/proposals or any addenda that may be issued for the same.

At the February 2018 meeting of the VLMPO Policy Committee, the FY2019 budget was approved that included an application to GDOT for funding to solicit proposals for this study. The funding for this study is provided from Federal Highway Administration Metropolitan Planning funds matched with local funds from the City of Valdosta and Lowndes County. Not only will this study result in information useful for transportation purposes, but it will also be used for other local planning and economic development efforts.

The SGRC, as the designated VLMPO, serves as a multi-county, federally funded transportation planning agency for the Valdosta Urbanized Area. The VLMPO conducts long range and short range transportation planning for highways and bridges, public transit, bicycle and pedestrian infrastructure, freight movement, as well as other areas.

To read more about SGRC or VLMPO, visit www.sgrc.us. For more information about the Regional Connectivity Study contact SGRC Transportation Director Corey Hull by phone at 229-333-5277 or by email at chull@sgrc.us.